Which Dublin Dinner & Drinks kits.
Hands up who's craving a night out? An evening away from planning your food and drink at home sounds like a dream. Sure, you can order takeaway, but it's the experience and escapism that comes with eating and drinking out is what we are really longing for.
The hospitality industry would love nothing more than to welcome us back, but for now, they are working on inventive ways to get a taste of what they do to you.
Operating as a straightforward takeaway simply isn't an option for many restaurants, however we are now seeing the emergence - and success - of DIY kits, from some pretty impressive places.
Costing multiples of what a simple take away would cost, these kits are creating a food experience, demanding that those who buy engage and become more invested in what they are eating, resulting in a far more enjoyable meal.
These kits might just help your night in feel a bit more like a night out as well as supporting an industry we all really need to survive, in more ways than one.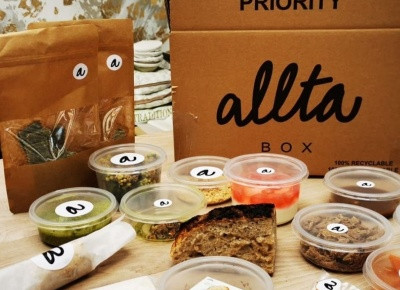 Allta Box
What does the hottest restaurant in town do when they have to shut up shop? They launch a weekly subscription box so you can get your Allta fix at home, of course. For €55 you'll get a box of goodies including handmade sourdough, house charcuterie & freshly prepared pasta. They guarantee enough for two hungry people to share generously.
Chef Niall Davidson admits it's been a trying time 'We've been on a complete roller-coaster from opening in November, temporarily closing in March and now reinventing ourselves as a nationwide food delivery service in a matter of weeks'. And while the boxes have been a great success so far it's not without obstacles 'It presents very different challenges than running a restaurant, so it's been a learning curve but also so fulfilling to still be able to feed and bring some form of normality and hopefully happiness to people in their homes during these hard times.' These are in high demand and sell out fast so get booking.
Order online. Free shipping with delivery on Thursday or Friday. Allta.ie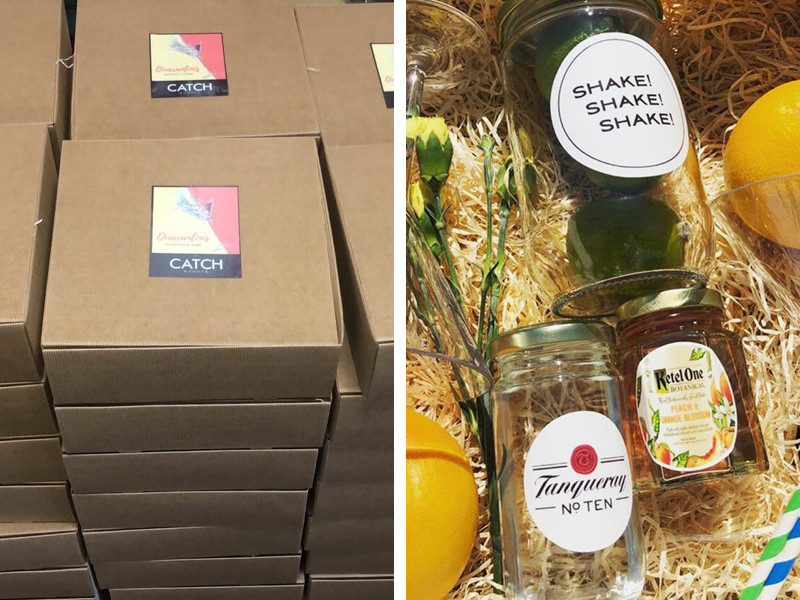 Catch Events Quarantini Kits
You'd normally find the Catch Events gang catering some of the most glitzy and fun parties around the city but these days they've figured out a way to bring the party to you. They launched the Quarantini Kit as a simple idea to cheer up their friends, says co-owner Federico Riezzo 'It's gloom enough as it is, we thought, let's do something to cheer them up and it snowballed from there'.
Now they offer a weekly box from €28 per week delivered to your door. It contains the ingredients for four cocktails and then each Friday they host a live Instagram masterclass so you can learn how to make the drinks too. It's sold out every week, but still, Federico admits it's definitely a labour of love rather than a money spinner or a solution 'I'll be honest with you it's not about making money because the margins are so ridiculously small that sometimes you think if it's worth doing it but what is really great it gets some people back to work and it's great for the brand. We're getting a lot of traction on our Instagram page which is brilliant. It's mostly for the love of people who've been supporting us.'
Order online, delivery on Fridays. Follow the videos here. Catchevents.ie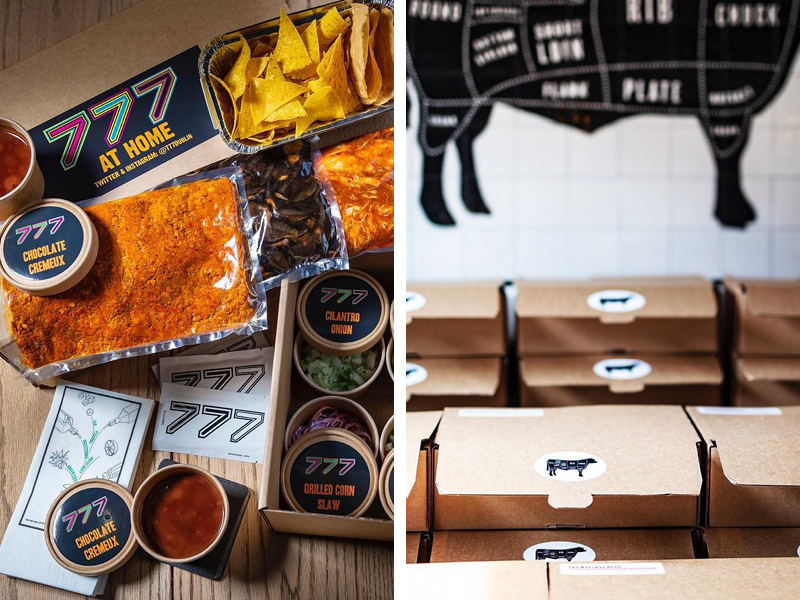 777 & The Butcher Grill
There was much excitement online when Dublin favourite 777 announced their home kit with 'everything you need to bring our kitchen into yours'. For €50 you get a generous selection for 2 people of totopos, taquitos, tostadas and salsas along with grilled corn and dessert. Owner John Farrell tells me he's happy to at least have some offering happening 'It's not a money-spinner, its to keep your brand alive and to keep your brains busy'.
At Ranelagh favourite The Butcher Grill they're running a call and collect service so you can recreate their juicy steak offering at home. Choose from three steak dinner options Cote de Boufe €40, Stripoiln €45 or Chateaubriand €50 and then you also get in each box a bunch of sides broccoli, mash, smokey beans and cauliflower cheese. You can add on dessert for €6 each coconut panna cotta or chocolate cremeux. They reckon they've done 90% of the work for you, all you have to do is follow the instructions at home to finish.
Order to collect Thursday to Sunday 5pm - 9.30pm. 777.ie. Butchergrill.ie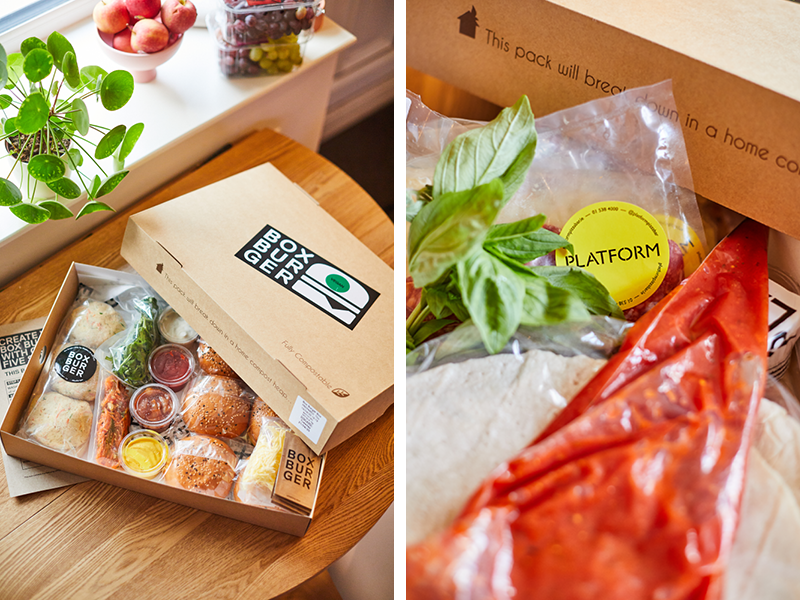 Platform Pizza & Box Burger
Conor Duggan, who runs Platform Pizza and Box Burger in Bray was looking for a way to keep some of his Bray based businesses going, so he joined forces with long time friends Seb and Tim from StuffUNeed, a grocery delivery service to offer DIY burger and pizza kits. 'It's great to get some of the team back to work. They are delighted to have something to keep us busy'.
Each Platform pizza kit contains the making of five pizzas including bases, toppings and instructions. You simply assemble and cook at home. And no volatile dough to look after. The Box Burger kits contain the making of six juicy burgers at home and there's a vegan version available. Both boxes cost from €34.99 and are perfect for families, these are great ones to get the kids involved in. They've also just started to roll out some pre-mixed cocktails for takeaway.
Orders for collection or Bray/Greystones delivery will be delivered on the same day between 4-10pm. Orders for the Dublin area will take up to 48 hours. Platformpizzabar.ie. Boxburger.ie

Host At Home
The wonderful Ranelagh neighbourhood joint Host, well known for their excellent pasta, has just launched 'Host At Home', where they are operating as a (socially responsible) grocery and take away. Co-owner Chloe Kearney is happy to be open again and tells me 'we're really enjoying doing something different for a while.' As well as being able to buy produce from their suppliers including Sean Hussey vegetables, they've curated some of chef Niall McDermot's favourite pantry items for Italian cooking and their own fresh focaccia.
But we're here for the DIY and they offer that in the form of their take-home menu which includes handmade pappardelle, pumpkin cappellaci, duck ragu and chicken Piri Piri. All come with straightforward instructions for you to 'cook' at home. 'Due to the social distancing requirements in the workplace we are a team of 4 and only able to offer walk in service only. However, we can do call and collect and deliver to anyone high risk everyday except Saturday.' And on Saturday Charlotte adds 'We are offering €2 coffees to anyone queueing!'
Open 1230 to 6pm Tuesday to Saturday. Instagram.com/host.restaurant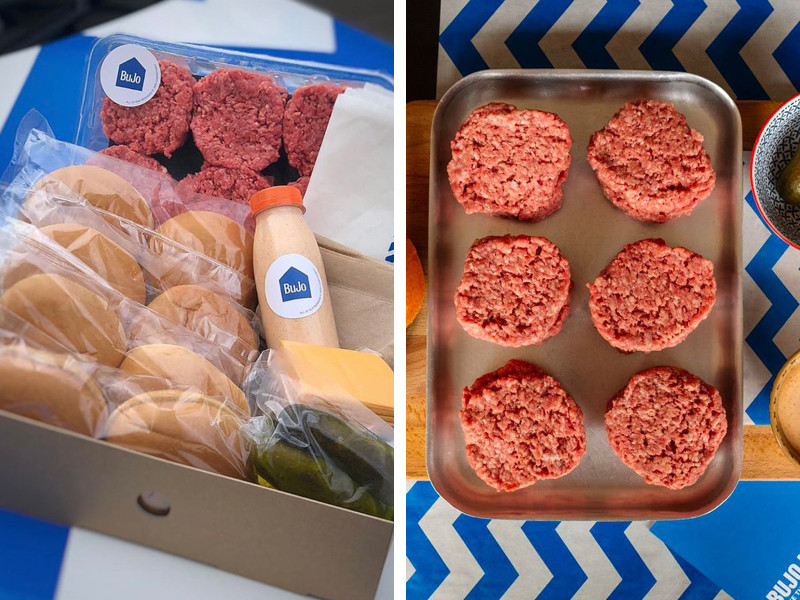 Bujo Burger Kits
Bujo has been inundated since launching their Bujo Home kits a few weeks ago, selling out, extending delivery zones and taking over Dublin foodie Instagram. For €40 you'll get everything you need to 'make the masterpiece' yourself. The masterpiece being Bujo's grass-fed beef burgers. There are ingredients for 8 recreations including the patties, buns, Bujo burger sauce, cheese and pickles.
The kits have even inspired the fun phenomena of the Bujo Cook-Off, which culinary director Gráinne O'Keefe has been enjoying watching 'We have a lot of people getting them at the same time and they are doing barbecues with other friends on Zoom. Other people are getting them and posting them to me on Instagram on Bujo and just seeing who's is better. It's good craic, especially the Zoom parties because you can have all your mates and you can all have Bujo at the same time'. And they are working on extending the offering, she tells me 'We're looking to add some different stuff to the boxes hopefully for next week'. Watch this space.
Order online for delivery within 24-48hrs. Delivering to greater Dublin area, including Louth, Meath. Collection from BuJo Sandymount Dublin 4 also available. Bujo.ie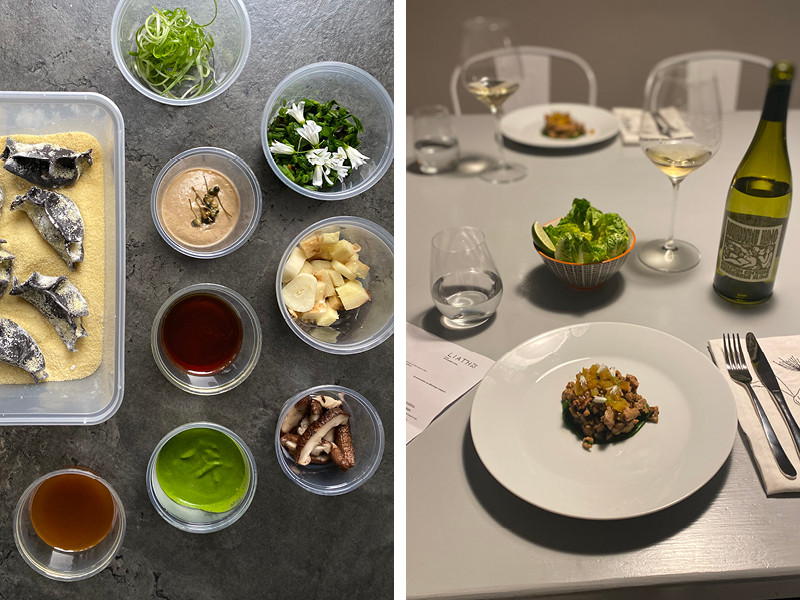 Liath To Go
The much-lauded Michelin starred restaurant Liath launched their to-go offering a few weeks ago tweeting 'Liath is alive again'. For €33 per person, you get a starter and main course, with full instructions, that you assemble and heat yourself at home. They release the seasonal menu a week in advance and it's limited to 40 meals a day, so much like booking a table here usually, you'll need to be on the ball. But it's worth it.
A happy customer who tried it last week told me 'Honestly, I thought it was brilliant ... very well put together and no way you could cook all those fiddly bits yourself for two people. Flavours were great but the fun and novelty value was even better.'
Collection only. Wednesday to Saturday, 5pm - 8pm. Liathrestaurant.ie

L Mulligan Cocktail Kits
The wonderful team at L Mulligan Grocer have been working away to figure out how to get a taste of their much-loved pub at home. They've nailed it with the drinks, launching an at-home cocktail kit for delivery. €40 gets you all you need for four generous cocktails to make at home. Chef & publican Seaneen O'Sullivan tells me 'The offering will change weekly, so Irish gin one week, whiskey the next, maybe even mead down the line! We are using Irish produce to make tinctures, syrups and cordials and using Irish liqueurs where possible'.
They are also busy figuring out how to get more of their local-focused offering to work for take out and delivery. 'We are also doing cheese boards and growlers locally at the moment. We are so conscious of the safety issues and are starting small with a soft launch. We hope to build up to a 'Mulligans Stay at Home' that is a three-course finished at home but we have to complete our kitchen reconfiguration for that. We'll test the waters with this and see how we go. It is incredibly difficult at the moment.'
Order online. Delivering locally to Dublin 7 for the moment. LMulliganGrocer.ie